How to transfer media files between your Mac and iOS devices
Recommended: Click here to fix Windows errors and optimize system performance
System Requirements:
Mac OS X
Have a large music library? Are you tired of selecting albums and playlists every time you need to sync your device? Do you think it is annoying that you can't copy videos freely to your iPod or iPhone; or that you can add some mp4 videos to your iTunes library but can't copy them to your devices?
With SyncPod, you no longer need to worry; this application makes it extremely easy to transfer songs, movies, books and other media files between Mac/iTunes and iOS devices.
Getting Started
After you've installed SyncPod on your Mac, the welcome to Syncpod window (shown in Fig: 1 below) will appear. This offers you a video tutorial on how to best use the app.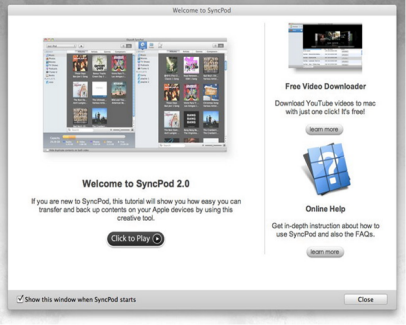 Fig: 1 Syncpod's Welcome screen
After you have closed this window the main application window will open. At this point SyncPod will automatically start to index the media content on your device and iTunes library. The Library of your device is shown in the left pane, iTunes on the right.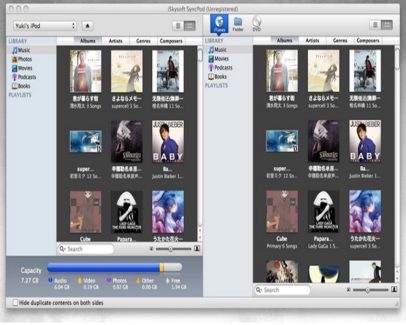 Fig: 2 SyncPod automatically indexes your media content
Working with SyncPod
Once SynPod has completed the indexing of your content you are free to drag music (Individual, albums, playlists, artists, genres, composers), videos, books and more between your device and the iTunes library.
If content appears to be missing it can be quickly found by enabling the "Hide duplicate contents on both sides" option. Once this option has been enabled only the missing content will be shown in the window., all you have to do is drag what you want. Another bonus is that all your songs and movies can be directly played in SyncPod, just double click the file to play. SyncPod not only sync's your content but manages it too.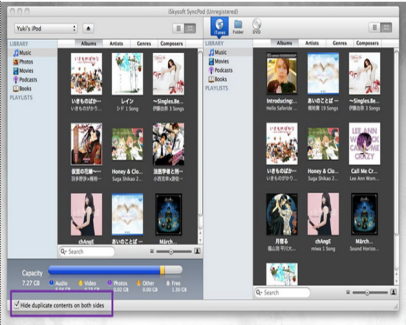 Fig: 3 To hide duplicate content enable the 'Hide duplicate content on both sides' option
The Developers' of SyncPod describe it as a one-stop shop for managing media files between a Mac and iOS device. So what does one-stop shop mean? Well, for one thing, you can copy files directly from your hard disc to your device. SyncPod saves you the iTunes library step. SyncPod also comes with a handy format converter which can handle those formats which iTunes doesn't accept.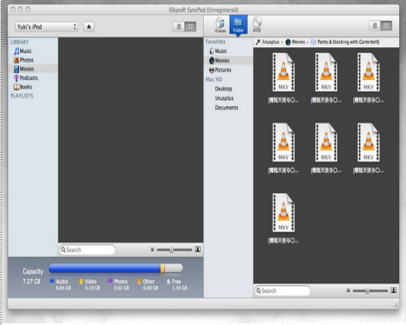 Fig: 4 Syncing is easy, just click on the folder in the right hand pane and drag your selected file to the right hand pane
Click on the Folder icon in the right hand pane, find the file you want to add to your device, then just drag it to the left – the device library. File converting start automatically. Once completed the media will appear on your device.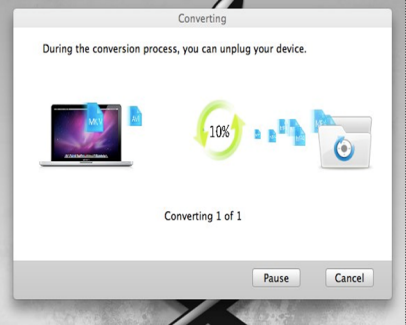 Fig: 5 File conversion
Another useful feature is the ability to copy DVD movies directly to a device. Once again it is a simple drag and drop operation with SyncPod ensuring that the DVD movie is ripped, converted and transferred to your device.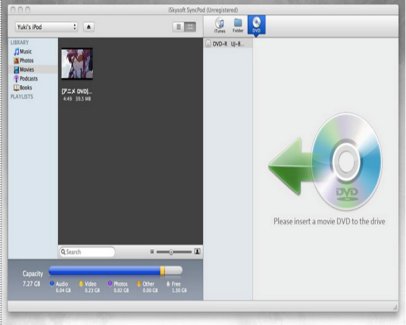 Fig: 6 Ripping a DVD
Obviously the quality of the converted DVD is most important and to this end SyncPod allows you to make changes to the final quality by adjusting the Conversion quality slider in the Preferences window.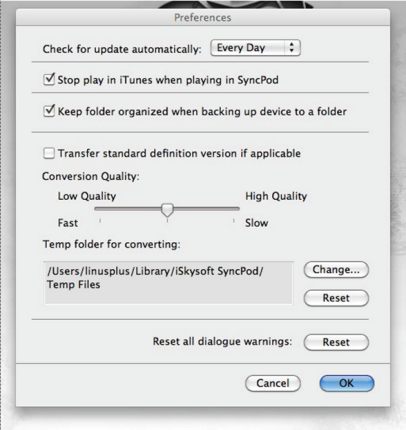 Fig: 7 Make adjustment to the quality of the converted DVD by adjusting the Conversion Quality slider
SyncPod vs. FreeSync
At $39.00 SyncPod seems quite reasonable. Some may notice that SyncPod has a free lite version: FreeSync. However, given the powerful features boasted by SyncPod it is well worth the investment. FreeSync, of course, only transfers song and these have to be in formats that iTunes accepts. FreeSync also doesn't support the copying of DVD movies or of file formats which iTunes doesn't accept by default.
Verdict
Along with the Apple boom, file sync between computers and iOS devices has become a daily routine for many people. Great apps like SyncPod greatly simplify this process for us. I'm sure that you will love this incredibly handy ipod to Mac transfer application.
Rating:
Ease of Use: 9.0
Features: 9.0
Value for Money: 9.0
Overall: 9.0
Tags: iPod copy files, Mac to iOS devices, Media File Transfer, music management, sync files, SyncPod