Internet Explorer 10 Platform Preview 1
Recommended: Click here to fix Windows errors and optimize system performance
System Requirements
Microsoft Windows 7 operating system 32/64 Bit. This version of Internet explorer is not compatible with Windows Vista, XP or earlier versions of the Windows operating system.
Just four weeks after the release of Internet Explorer 9, Microsoft unveiled the first platform preview of IE10 at the MIX11 conference in Las Vagas on the 12th of April 2011. The corporate vice president in charge of IE, Dean Hachamovitch said: "Internet Explorer 10 will push the boundaries of what developers can do on the Web even further." And the president of Windows and Windows Live at Microsoft, Steven Sinofsky showed off some of the new features in IE10 and how it compares with competing browsers. So let's take Microsoft's latest browser for a test drive.
In order to benchmark IE 10 we have employed the following test scenarios: Acid3; CSS3; Sunspider javascript; WebWait; and Scanit Security.
Because it is only a preview edition, IE 10's interface is very simple, with no toolbar, address bar or status bar.
ACID 3 Test
Acid3 checks the performance of a web browser to ensure it complies with the Web Standard Project, especially with regards to the Document Object Model (DOM) and JavaScript. As you can see from Fig: 16.1 IE 10 didn't pass this test, only just managing 95 points out of a possible 100.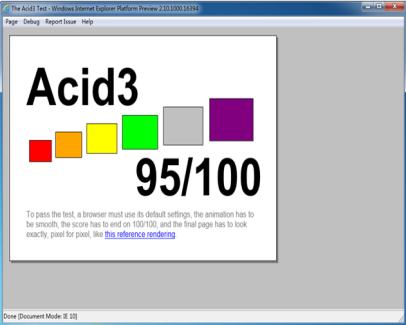 Fig: 16.1 IE 10 didn't quite hit the mark on the Acid3 test.
CSS3 Test
CSS3.info provides a CSS3 Selectors Test. This automatically runs a large number of small tests which determine whether the browser is compatible with a large number of CSS selectors. Fig: 16.2 shows that IE 10 passed all 41 selector tests with flying colours.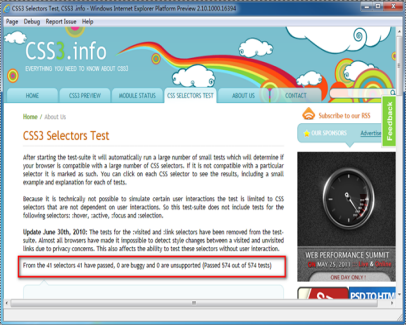 Fig: 16.2 CSS3 initiated approximately 41 separate tests.
SunSpider JavaScript Test
WebKit SunSpider is a test which measures a browser's JavaScript execution performance. This test showed that IE 10 took 215 ms to complete the test; however it should be noted that IE 10 has rather more code than IE 9 and this could possibly affect the test results.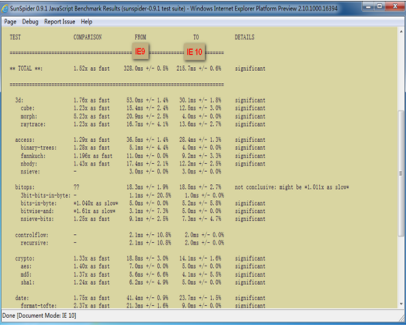 Fig: 16.3 IE 10 is rather larger in size than IE 9 resulting in a score of 215 ms during our test.
HTML5
Microsoft's Internet explorer browser has supported HTML5 since IE9, and IE 10 will continue that support. IE's driver page provides many HTML 5 demo's which you can try for yourself.
Page Loading Time
The time it takes for a web page to load is probably one of the most important user considerations. The faster a web page loads the better the user experience. For our test sample we used the Brothersoft.com web page.
As you can see (Fig: 16.4) IE 10 loads the page pretty quickly, but it is still somewhat slower than IE 9.0. (Fig: 16.5)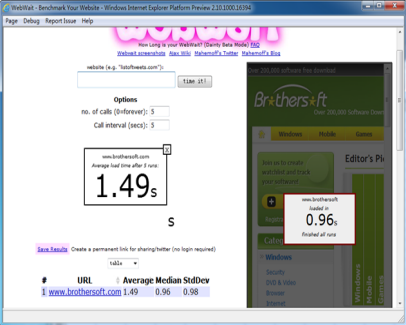 Fig: 16.4 The Brothersoft.com page loads somewhat slower that it did in IE 9.0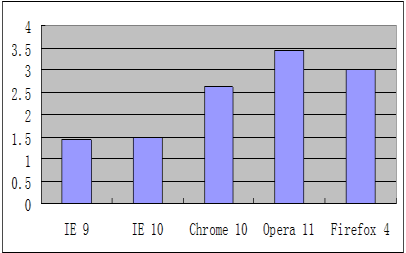 Fig: 16.5 Even though IE 10 is slightly slower it still out performs its major competitors
Security Test
Security is one of the most important aspects of surfing the Web and a good browser should protect the user against pop-ups, viruses and phishing frauds. In testing the security of IE 10 we used just one of the many tests provided by Scanit.be. As you can see (Fig: 16.6) IE 10 passed this test with ease.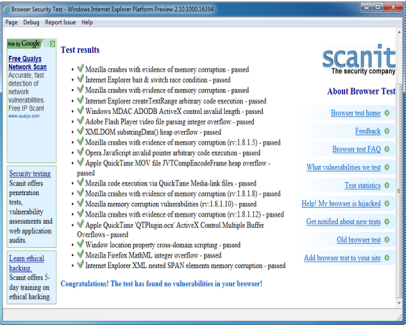 Fig: 16.6 The test results show that IE 10 is a secure browser
Verdict
IE 10 is currently in the early stages of development and we certainly expect IE 10 to improve further as it nears the final release stage. While we expect the browser to be better than IE 9, it still has a long way to go and much more work is needed if Microsoft wants to make Internet Explorer 10 the number one browser.
Rating:
Ease of Use: 8.0
Features: 6.0
Value for Money: 9.0
Overall: 6.0